This time the designers who inspired me when I was a decorator and has stay with me now I'm attempting a career as an author.
Edith Wharton is a personal hero of mine and not only because she is a decorator and writer but because she was brilliant at both. She won the Pulitzer Prize in 1921 for here novel The Age of Innocence and was the first woman to be awarded the prize. Her The Decoration of Houses, a manual of interior design was written with architect Ogden Codman and is until today a must read for all decorators. Read more about Edith
here.
In 1902 she built The Mount, her estate in Lenox, Massachusetts, which survives today as an example of her design principles.
***
Nancy Lancaster, a native of Virginia who moved to England in 1926, She was instrumental in creating what is popularly known as the English-country look. This school of interior decoration is characterized by sun-bleached chintz, vibrant wall colors, a casual mix of furniture from various historical periods and an atmosphere of disheveled coziness. John Fowler, Mrs. Lancaster's partner in the London design firm of Colefax & Fowler, called it "pleasing decay."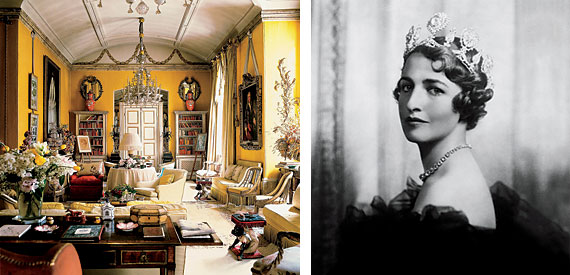 Nancy Lancaster, Lady Tree said this of decorating a house
'It is usually a mistake to impose an individual's taste on a room that has its own....style. Conversely, to put very fine pieces of furniture in a room that is without architectural distinction is as absurd as wearing a tiara with a bathing suit.'
She is worth knowing more about and you are able to learn some
here
or in Martin Wood's book Nancy Lancaster: English Country House Style.

***
Elsie de Wolfe, Lady Mendl, American interior designer, hostess, and actress. Ella Anderson de Wolfe was born in New York City on Dec. 20, 1865, and was educated in Edinburgh. She began her social career in New York and acted in amateur theatricals for fund-raising. As a professional actress from 1890 to 1905, she specialized in supporting roles.
De Wolfe took up a career in interior design at the suggestion of her friends Elisabeth Marbury and Sara Cooper Hewitt. Her first commission was the Stanford White-designed Colony Club in New York. De Wolfe's foremost design principles were simplicity, airiness (utilizing mirrors and light hues of paint and fabric), and visual rather than stylistic unity. She helped change the fashion of interior design. She wrote the book 'The House in Good Taste' (1913) and was a noted hostess. De Wolfe spent much of her life in France, remaining there during World War I to nurse soldiers, for which service she received the Croix de Guerre. In 1926 she married Sir Charles Mendl. She died in Versailles, France, on July 12, 1950. Read more about the brilliant Lady Mendl
here
at Architectural Digest Architects & Designers Design Legends.
January is near its end, how fares your New Years resolutions?
My love, my care,
Simone