John Nash understood the simplicity of design and was strongly influenced by classic architecture and gothic design. His lines were elegant and sweeping without being grotesque or overly showy. It's for this reason, his work is still relevant today.
Nash's work exemplified regency excess but with the tasteful restraint of one who understood hard work and came from humble beginnings.
Nash understood that architecture could not stand alone and it was for this reason tht he worked with the landscape designer Humphry Repton.
He mastered well grandeur and good taste.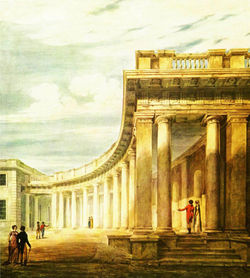 His work was fitting for his time and stood the test of time.
The Brighton Pavillion is his masterpiece. It showed his genius and his ability to marry more than one school of architecture.
Dorothea de Lieven described the Pavilion succintly in a letter to her lover Prince Metternich: "How can one describe such a piece of architecture (as) the King's palace here? The style is a mixture of Moorish, Tartar, Gothic and Chinese, and all in stone and iron. It is a whim which has already cost 700,000 pounds; and it is still not fit to live in."
The Marble Arch is as synonymous with England as the Big Ben.
My favourite thing he has done. Brilliant architecture.
Brighton, Pavilion
My love my care,
Simone